Professional bass guitarist, teacher & producer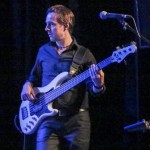 Tiernan is an outstanding professional bass guitarist with over 20 year of experience. Since graduating from the Guitar Institute in 1997 he has performed, recorded and collaborated with many artists and producers including YamWho (Ism Records), Hugh Padgham, Robert Strauss, Crispin J Glover, Ben Carrigan, Micky Simmonds, NYC disco band Odyssey, Tommy Ludgate, Sarah Grace, Killer Whale, Inner Groove, and Madeleine. He is experienced in writing, performing and recording most genres of contemporary popular music including rock, funk, soul, disco, folk, blues and jazz. He has also spent many hours working as a pit musician for a variety of musicals including 'Moby Dick', 'Big Fish', 'Little Shop of Horrors', 'School of Rock', '9-5 – The Musical' and is currently bass player for Creeds Cross, touring the UK with the fantastic theatre show 'The Celtic Journey'…This is alongside other side projects.
In addition, Tiernan has worked with Sample Magic to create a series of bass loop packs. The first project (now completed) is to compose, record, mix & produce 200+ 'Disco and Funk' bassline loops, fills and slides (check it here). This pack was released in Jan 2015. Disco and Funk Bass 2 was released on Sample Magic in May 2017 and there are more packs on the horizon!!
Tiernan has 17 years teaching experience, including 11 years as a peripatetic music teacher. He takes a keen interest in the process of learning, and his investigations into effective studying methods inform his teaching practice. His aim is always to encourage pupils to reach their highest potential. He has guided  many students through the full range of Rock School grade exams from Debut to Grade 8. Some pupils he has taught are studying / have studied at Berklee College of Music, The Royal Academy, LIPA, and Birmingham Conservatoire.
Download my profile from here –>  Currently being updated. Please email for more details.
Show Reel
What people say… 
"We used Tiernan to fill in for a couple of shows while our regular  bass player was away. Our set is a very complicated mixture of originals and rearranged covers in the Celtic/ Folk /Rock genre and would be a challenge even with lots of rehearsal. Tiernan was amazing! He turned up at our two short rehearsals totally prepared and was terrific. Not alone had he really learned the stuff and done it well, he played with a fantastic groove and got along with everybody brilliantly.
The shows themselves, one of which involved a festival went great and it really didn't feel in the slightest like we had a dep.
I can't recommend Tiernan highly enough both as a bass player and as an individual. He's accommodating, pleasant, extremely talented and a great addition to any project."
Bart Foley – Creeds Cross
  "Tiernan is a first-class bass player with a fine recording pedigree, style by the bucketload, and most importantly, a bottomless pit of fine creative ideas. Oh, and he's a good guy to work with too."
Dave Felton
–
Co-founder of Sample Magic
"Tiernan is always a pleasure to work with.  He is the most reliable musician I know and is always well prepared.  As a singer-songwriter it is important to have supportive and positive musicians around you and Tiernan is just that.  He always makes me feel at ease.  Great feel, passion and focus!"  
Tommy Ludgate
 –
Singer songwriter, vocal coach & tutor at Tech Music Schools
"Hello Tiernan … I've been talkin' you up to people about the work you've done on the last Odyssey album with me and the boyz at ISM records. With all the rehearsals, commotion, deadlines, interviews and promo gigs, I never got the time to commend and thank you for the incredible job you did. They don't come much funkier than you M'man!"
Steven Collazo
 –
Singer / songwriter 'Odyssey'
"Tiernan is a seriously great musician, and I love working with him. He has been an integral part of some of the biggest releases on ISM records so far, including the 'Legacy' album from the New York disco band Odyssey. He also featured regularly in their live shows. I look forward to making more music with him."
Andy Williams
 – Producer & DJ (aka YamWho!) / Founder & MD at Ism Records  
"I've been working with Tiernan for the past 18 months and have really enjoyed his contributions both musically and personally to the projects we have been involved in. He is a consummate professional and always delivers at the highest level. Looking forward to working with him again. Highly recommended!" November 8, 2012
Darren Ashford
–
Drummer/Educator/Owner of Drum Lesson Academy
"Tiernan is a wonderful musician and a fantastic bass player. 
He worked with me in the studio and on live concerts and gigs. He is always prepared, practised and on top of the game. Tiernan is a pleasure to work with and I always enjoy his bass playing. Great Tone and Licks! 
Top qualities:
 Great Results, Personable, Expert"
James Manders
 – Session guitarist/MD
"Tiernan is a fantastic bass player, and highly versatile. His attention to detail when learning any new material is fantastic and he is happy to help in any way he can when booked for a gig. 
If you need a bass player, he is your man!"  
Michael Hall
– Keyboardist/MD/Owner of michaelhallmusic.co.uk band agency
"Tiernan is a highly professional and skilled bassist, with great groove and musicality. He prepares for sessions in a meticulous and thorough manner, and is always extremely amenable in the studio. It's always a  pleasure working with him."
GMR Layton BMus (Hons) PGCE MSt (Oxon)
–
Head of Music Technology, Harrow School
Teaching Testimonial:
"Tiernan has been a Visiting Music Tutor (VMT) at The John Lyon School since the Summer term of 2010. The expectations of the school are that VMTs are punctual, reliable and experts in their chosen fields. Tiernan has met all of these expectations and is a valued member of the Music School team.
He has taught various pupils the Rock School Syllabus, teaching pupils from Debut to Grade 8. All the pupils that he has entered for these grades have passed, some with a 'Merit' or 'Distinction'.
Tiernan is a motivational teacher. He has prepared individual bass courses to suit pupils who do not wish to take graded exams. He is interested in building confidence alongside technique. He has helped with the extracurricular activities that take place within the Music School and has ensured that pupils are able and confident to play in ensembles, lunchtime concerts and the major concerts that are a feature of the schools musical calendar. I am happy recommend Tiernan for any employment he may choose to apply for."
Lewis Evans – Music Teacher at John Lyon School & West End bass player.